Enter the future with the best WordPress alternative.
As limitless as WordPress, plus way more. Powerful visual builder, top-notch global hosting, CDN storage, enhanced security, and more.
Divhunt has been a game-changer for me. In the past, I used WordPress but always needed a developer's help for even small updates. Now, with Divhunt, I can do these tasks myself. It's a huge time and money saver, and I love it!

Hangama Wanner

Founder at sasit.ch and liyf.com
My needs are simple, mostly websites with couple of pages. Divhunt takes away the hassle of WordPress setup and optimization. I just kick off a project and start building. Plus, without any extra optimizations, it's 10x faster than my WordPress websites. Simple and super speedy!

Alexandros Potter

Co-founder at Simeon Entertainment
Fast
Freedom & Scalability of WordPress, but easier. And lightning-fast.
Modern web world demands everything to be instantaneous, fast, and easy to set up. These WordPress flaws can be a deal-breaker for a lot of users. Divhunt offers solutions to address these concerns.
Get started in seconds
Setting up a WordPress project can take up to 30 minutes and often requires a skilled person. Divhunt does everything for you in a matter of seconds. Spend your time builder instead of figuring out complex processes.
Coming Soon
Load time & performances
WordPress is very heavy, and the downside is a considerable loading time. This can be challenging even with a freshly made, empty WordPress project. With Divhunt, you can experience instant actions for the smoothest building experience, with a rapid load time of 500-800ms on average, while WordPress typically takes more than 1.5 seconds.
Coming Soon
Single Page Application (SPA)
Instead of loading separate HTML pages for different interactions, SPAs dynamically update the content on the current page by manipulating the Document Object Model (DOM). Unlock the maximum speed and minimal loading time with SPA technology for both Builder and your live websites.
Coming Soon
Easy
Build faster with the visual builder - without the code.
Everything is moving forward, especially the No-Code technology. More and more people are looking for these solutions for their businesses and rapid growth. Divhunt can bypass a lot of manual processes that require time and developers' work, giving you the freedom to build visually - without the code.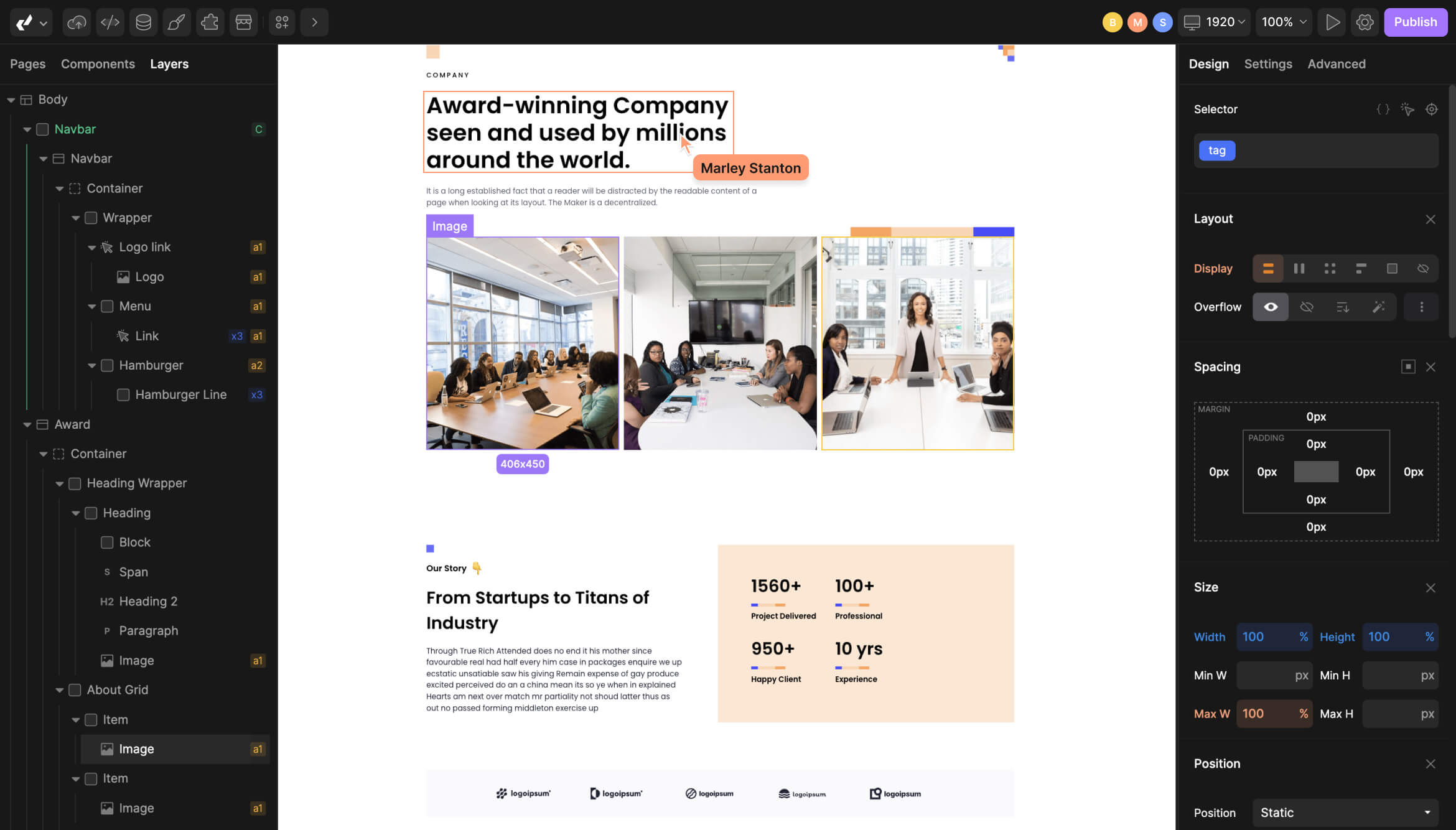 Easier to learn
Learning curves can be time-consuming and often frustrating. Unlike WordPress, Divhunt is very straightforward, with an easier-to-use and clean Builders' UI, allowing you to build visually instead of writing the code.
Coming Soon
Less technical
To set up and use WordPress, you must have the technical knowledge or hire a developer to do it for you, which costs additional money. Divhunt is a visual-based website Builder that lets anyone set up and build websites.
Coming Soon
Easy maintenance
Forget about writing to developers in order to update the website content, update the item prices or make any changes. Divhunt's intuitive UI lets you update and maintain your website with ease - Without any coding knowledge.
Coming Soon
Reliable
You - Build. We - Everything else.
Let your website's aesthetics be your primary concern, as we take care of hosting, security, CDN and other boring stuff.
Industry-leading hosting
Enjoy the industry-leading hosting on top-tier servers with zero downtime, ensuring lightning-fast performance worldwide, regardless of your visitors' location.
Highest Security
Feel safe with the security system of Divhunt. All your projects, information and databases are safe. Everything imported, even the third-party plugins are checked and tested, ensuring a flawless experience.
CDN for uploaded assets
Every asset you upload to your website, including images and videos, is delivered to users via the best global CDN. That means your site loads faster than a cheetah, no matter where your visitors come from.
Stability
Enjoy building your projects stress-free. Our system will ensure smooth work without errors, lags, or sudden breaks of software or your projects. Plugins and updates can be updated manually to ensure the best stability, even with older versions.
Automated backups
Mistakes are part of every building process, even for senior developers. That's why Divhunt stores automatic backups, allowing an easy revert to previous versions of the build in case of any accidental changes, errors, or breaking certain things.
Staging environment
You don't need to set up a separate development environment to work on updates without exposing them to users in real time. As an admin of the project, the changes on the live site will be visible only to you while you work on them. Once you are happy with an updated version, hit publish, and updates will become visible to everyone.
Familiar
Everything you like about the WordPress CMS, and nothing you don't like about it.
We understand the importance of a good and stable Contact Management System. Divhunt has a familiar CMS environment, so you can make a smooth switch without any hassle and learning curves. On top of that, we fixed all the downsides of the WordPress CMS system and hit it with steroids for even more flexibility and power.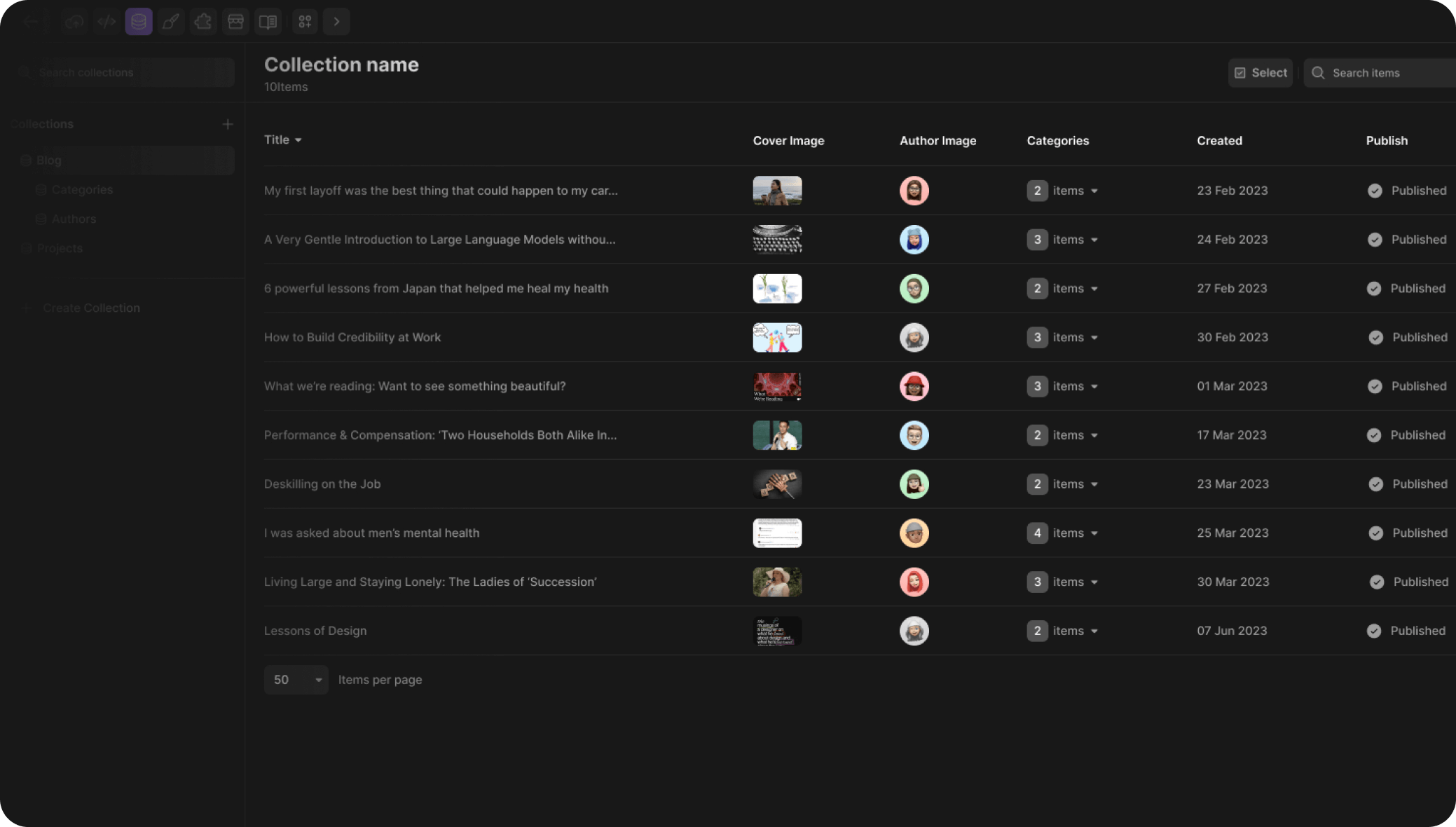 Personalized Layout
Easily personalize your CMS Collection layout with custom field arrangement, width, grouping, and tab organization.
Coming Soon
Unlimited CMS items & fields
Free yourself from the need to count and plan your CMS Collection fields. Add as many fields as you need without any limitations.
Coming Soon
Powerful rich text editor
Fully customize your content exactly the way you want with our powerful and feature-rich text editor.
Coming Soon
Repeater field
Make your content creation process easier by seamlessly duplicating and structuring content sections, optimizing your workflow.
Coming Soon
Page Templates
Build multiple pages for a single collection, and inside of each item, select a template that suits it perfectly.
Coming Soon
Bulk editor
Very useful solution if you want to quickly edit multiple collection items without opening one by one.
Coming Soon
Build
limitless
websites at light speed
Never hit a roadblock again. Join Divhunt today and build for free.
Start For Free

© Divhunt 2023. All Rights Reserved