Content Management System
Everything you need for Content Management, and beyond.
Create, organize and manage dynamic content with maximum freedom and flexibility of our visual Content Management System.
Customization
Better organization, better workflow - better work quality.
Content management systems can be overwhelming and hard to navigate through, especially for clients and content writers. Divhunt lets you take the customization to the highest level, in order to create the best work environment for everyone.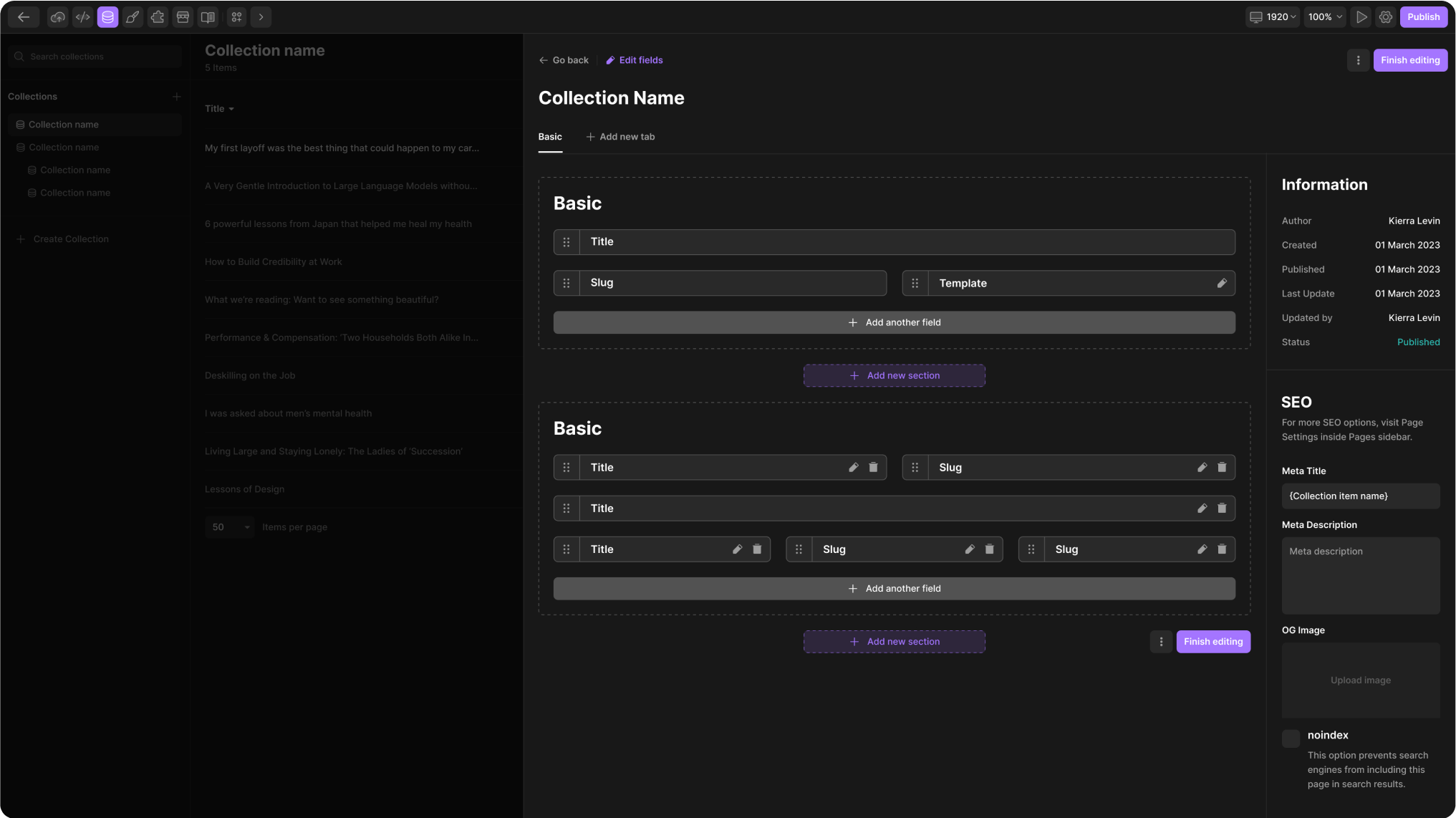 Divide content with Sections
Forget about scrolling and looking around in order to find one specific field in the long list to update it. Keep your system clean, easy to navigate, and intuitive for everyone.
Separate content into groups for easier navigation

Keep the management system organized and easy to use
Go step further with Tabs
Working with a larger CMS Collection can become messy and hard to navigate, especially for non-so-techy clients. The tabs system allows you to separate your content into different tabs for easier navigation and smoother and faster workflow.
Separate field groups into different tabs

Better workflow for maintaining and updating the content
Customize the fields view
Take the CMS customization to the maximum level and create the system to suit your or your clients' needs. Divhunt let you group, reorder and change the size of the fields in order to create the most intuitive work environment.
Fully customizable view

Create custom layouts to suit your needs
Repeater Field
Flexible Content Management made easy with Repeater field
Create repeating sets of sub-fields that can be used as many times as you need them, allowing you to create better designs. Use the Repeater for things like testimonials, team members, image galleries, or any other content that requires repeating sets of information.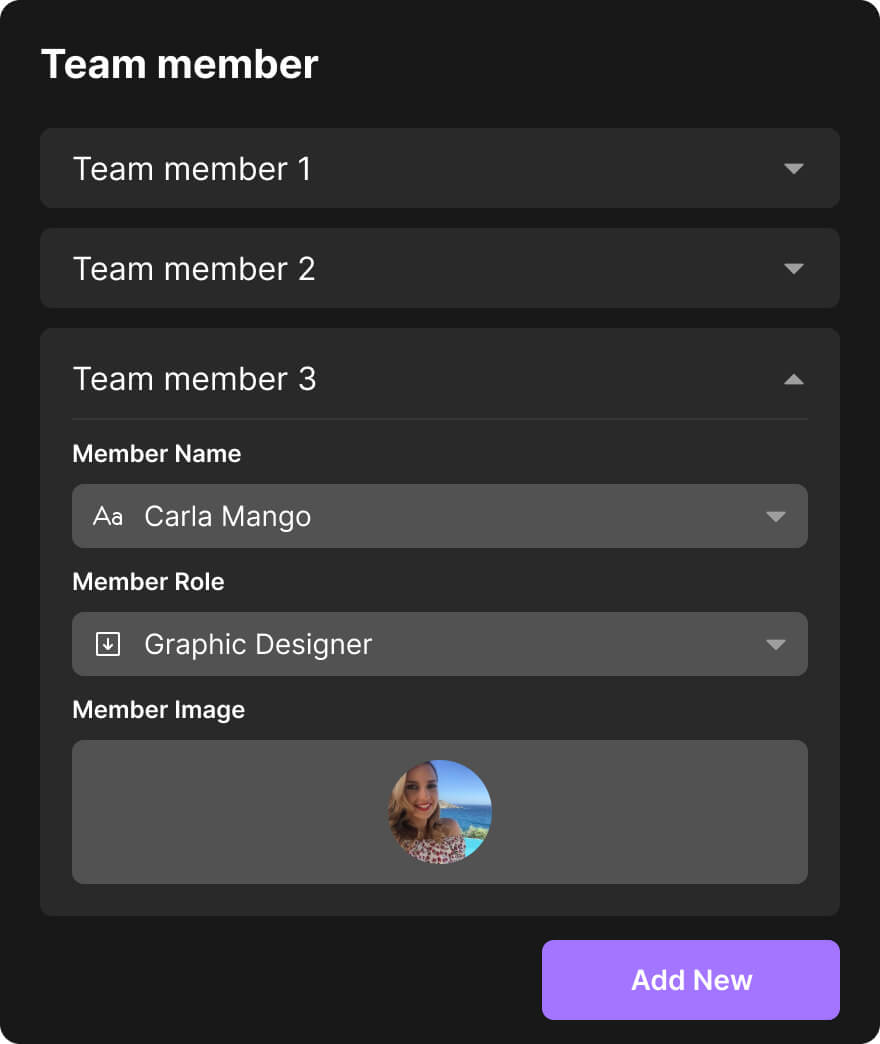 Create flexible dynamic pages
Easily personalize your CMS Collection layout with custom field arrangement, width, grouping, and tab organization.
Coming Soon
Never hit a limit
Free yourself from the need to count and plan your CMS Collection fields. Add as many fields as you need without any limitations.
Coming Soon
Achieve better organization
Fully customize your content exactly the way you want with our powerful and feature-rich text editor.
Coming Soon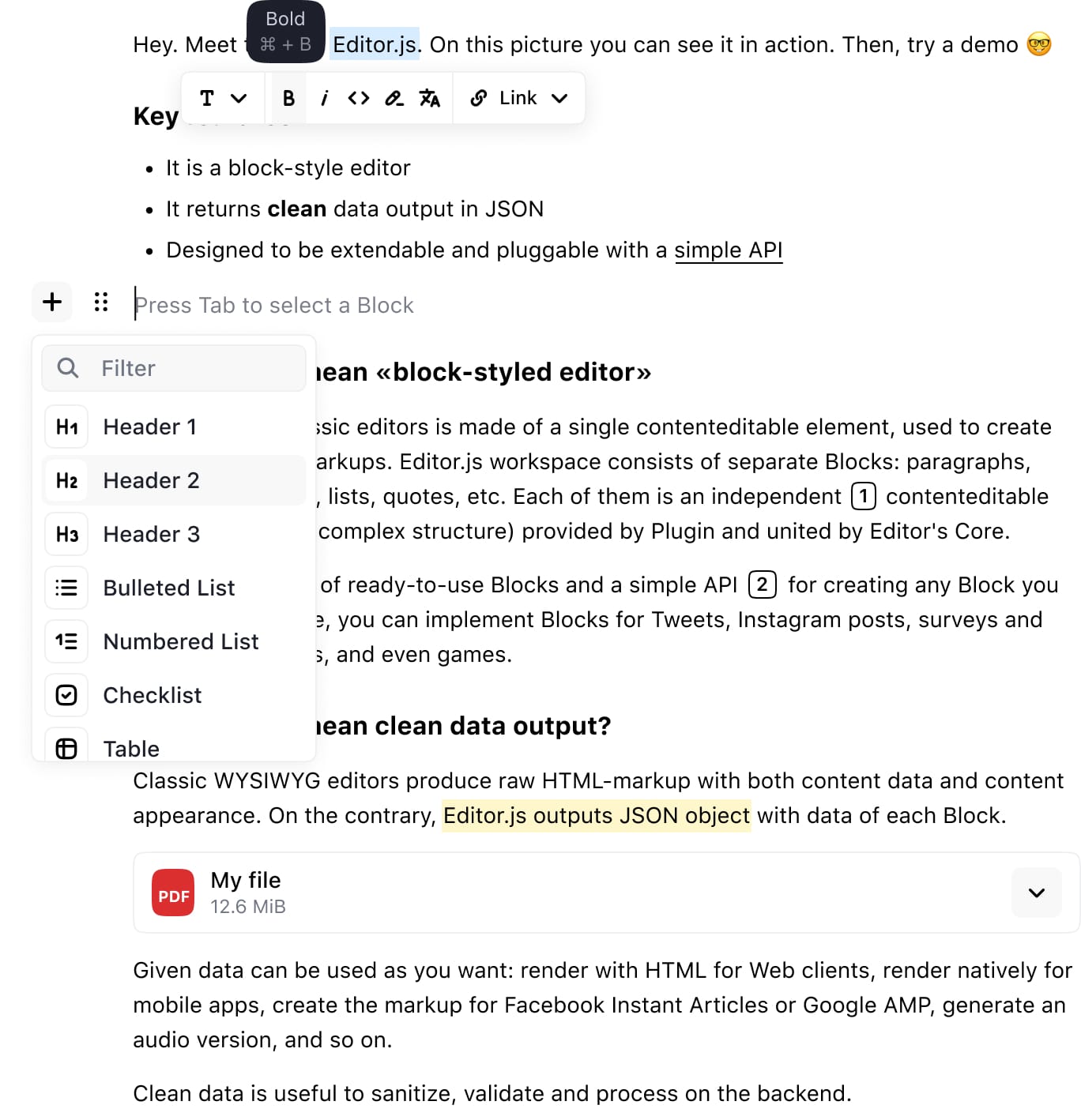 Rich Text Editor
Create and customize your rich content, visually.
Create repeating sets of sub-fields that can be used as many times as you need them, allowing you to create better designs.
Create content by adding blocks such as paragraphs, headings, images, lists, quotes, and more.

Create and edit content blocks easily with a user-friendly interface created for users with varying technical knowledge

Highly customizable editor, enabling completely free hands in order to meet your design requirements

For more developer-oriented users, HTML Embeds are enabled inside the editor for complete control without boundaries
Page Templates
Create different page templates for the same collection list
CMS Page Templates feature allows you to create several page designs with different layouts, for the same collection list and choose which template you want to use for individual collection items.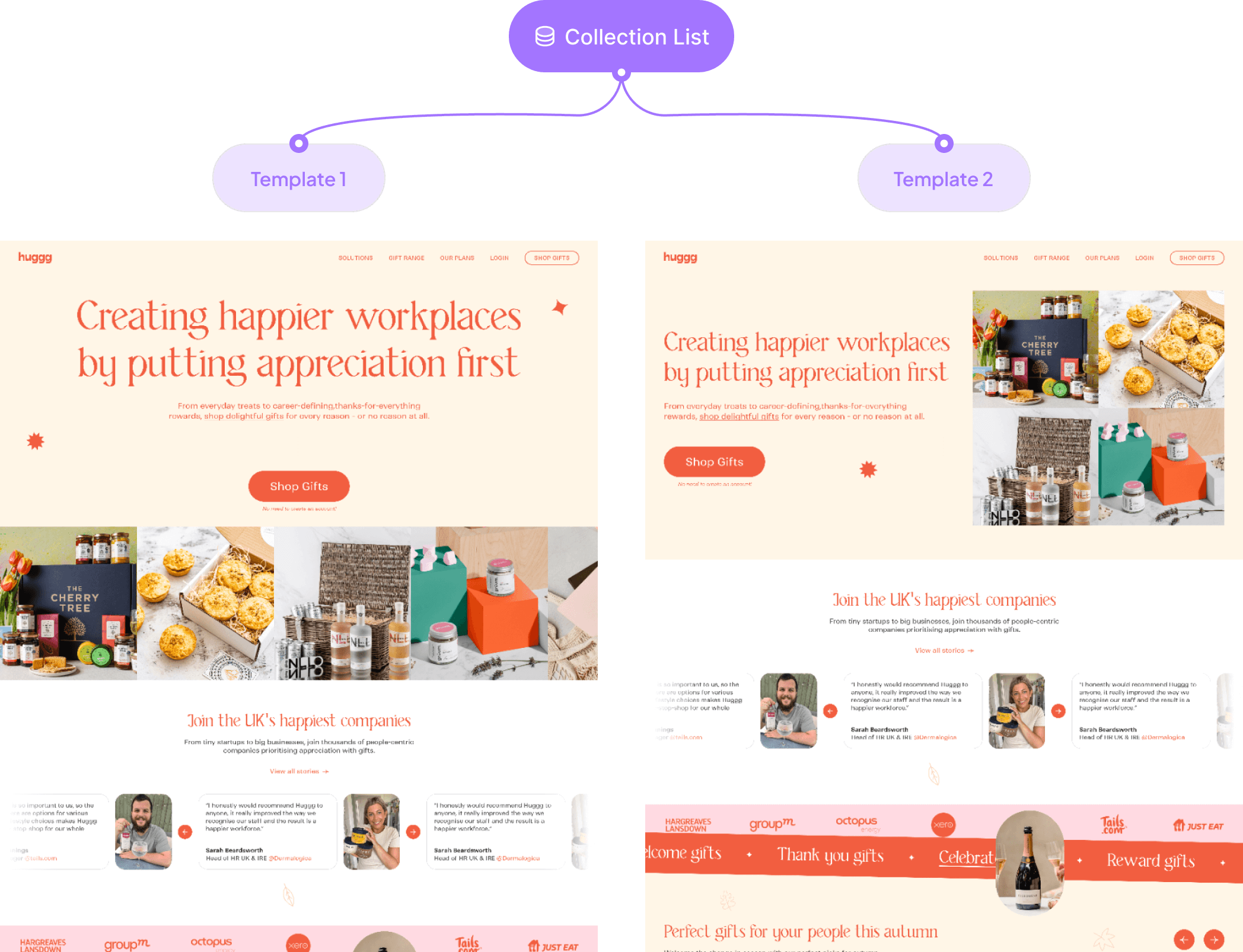 Direct & Bulk Editor
Quickly edit your collection items directly from a table
Quick changes are a standard part of every work inside the CMS. Opening and closing collection items in order to make quick changes can be exhausting and time consuming. Divhunt lets you edit your collection item fields directly from a table view without entering an item.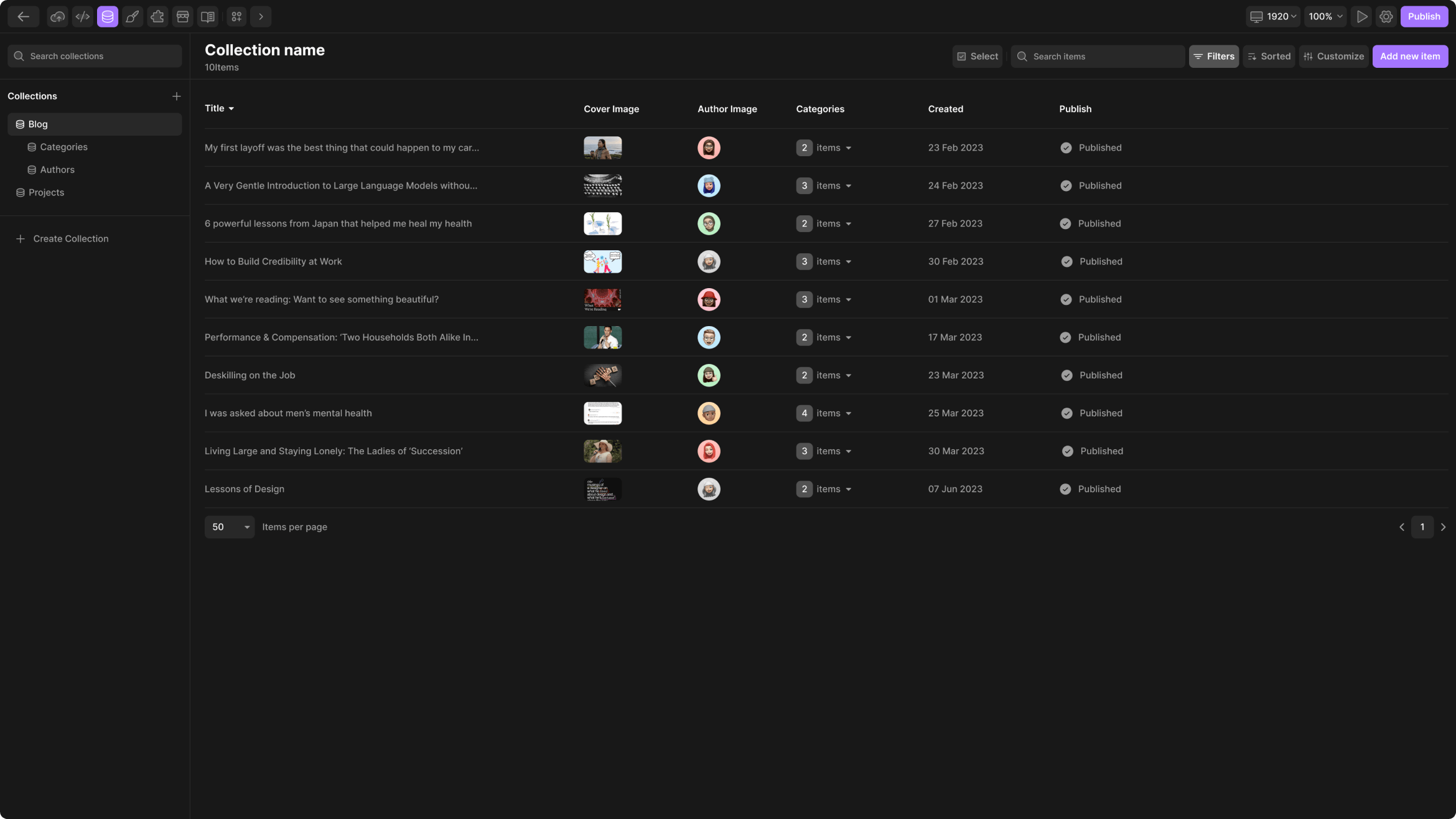 Time efficiency
Editing collection items directly from the table view saves time by bypassing the need to open and navigate through collection items one by one. It saves time in the editing process, especially if you have a larger number of items to update.
Coming Soon
Improved productivity
The ability to make bulk edits allows you to modify multiple items at the same time, directly from the table view. This boosts productivity by enabling you to make consistent changes or updates across multiple collection items at once.
Coming Soon
Simplified workflow
Editing collection items from a table view, individually or in bulk simplifies and improves the workflow by eliminating the need to switch between different screens or pages, saving time and providing a better editing experience.
Coming Soon
Build
limitless
websites at light speed
Never hit a roadblock again. Join Divhunt today and build for free.
Start For Free

© Divhunt 2023. All Rights Reserved